Hello Everyone! I am extremely happy to announce that
Nikki Rae
will be touring the blogosphere to promote the third part of her horror novella
The Donor
. This virtual book tour is being hosted by the author herself and will last from
September 20, to October 10, 2014!
Ms. Rae is also doing an awesome giveaway - she is giving away a
signed
paperback copy of
The Donor
(for the U. S. and Canada only) and signed swag to one lucky winner at the end of her Blog Tour. Be sure to fill out the
Rafflecopter
form below, and I wish you all the very best of good luck in taking part!
The Donor Part Three Blog Tour Information:
Meet Nikki Rae
Nikki Rae is a writer who lives in New Jersey. As an independent author, she has appeared numerously on Amazon Best Seller lists and she concentrates on making her imaginary characters as real as possible. Nikki writes mainly dark, scary, romantic tales, but she'll try anything once. When she is not writing, reading, or thinking, you can find her spending time with animals, drawing in a quiet corner, or studying people. Closely.
Connect and Socialize with Nikki!

About The Donor Part Three:
Casey may have not known what was in store for her when she met Jonah Black on
MyTrueMatch.com
, but now that she's with him, life has become even more unexpected. She's discovered someone else in the picture and now she cannot figure out how she fits into the puzzle.
Convinced that he doesn't need her, Casey is torn between giving up and doing whatever it takes to help her family. But Jonah, it turns out, needs her more than she knows.
Time is something neither of them have.
Can they hold each other together as the clock runs out?
Blog Tour Giveaway of the Full Donor Novella and a $5.00 Amazon Giftcard Ends October 30, 2014.
The Donor Part Three Book Publicity Tour Schedule: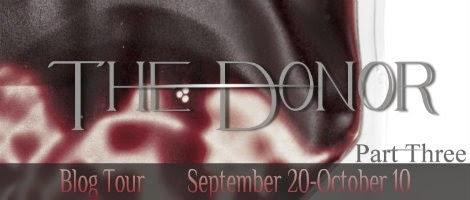 May you read well and often