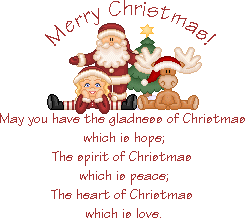 MySpace background: CoolSpaceTricks.com

Hello everyone! :) I hope that you all have a wonderful and much blessed Christmas filled with as much friendly and family togetherness as you could wish for. :) Both Mom and I are feeling fine, although it's definitely not looking anything at all like Christmas - absolutely no snow, and yesterday's high was about 72 degrees Celsius outside!


The kitties are really getting into the Christmas spirit - 'Santa Paws' bought them a stocking full of catnip and kitty toys, and the purrs of thanks resounded around the room. Right at the moment, every one of the girls is sprawled about the room sleeping off their excess excitement. Fun was had by all - humans and kitties alike!
May you read well and often