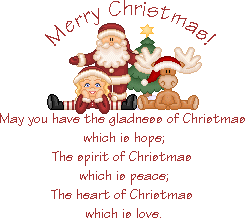 MySpace background: CoolSpaceTricks.com
Hello everyone! :) I hope that you all have a wonderful and much blessed Christmas filled with as much friendly and family togetherness as you could wish for. :) Both Mom and I are feeling much better this year (last year we both had horrible bouts of flu), but this year we're feeling just fine! Looking forward to Christmas as much as ever.
The kitties are really getting into the Christmas spirit - Ruby lies as close to our little fiberoptic Christmas tree as she can get; Leila has become a little less combative in honor of the Season; and Lollipop is licking everyone and everything in sight - including her own reflection! :) Not too much of a change for Lady Lolli's personality, I suppose, but she did knock over our little Christmas tree about three days ago.
It wasn't plugged in at the time, and nothing was broken, but I think that Lollipop was experiencing a rush of over-excitement at the time. She's now trying to make up for her little slip, and desperately hoping that 'Santa Paws' will forgive her! :)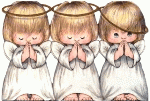 May you read well and often